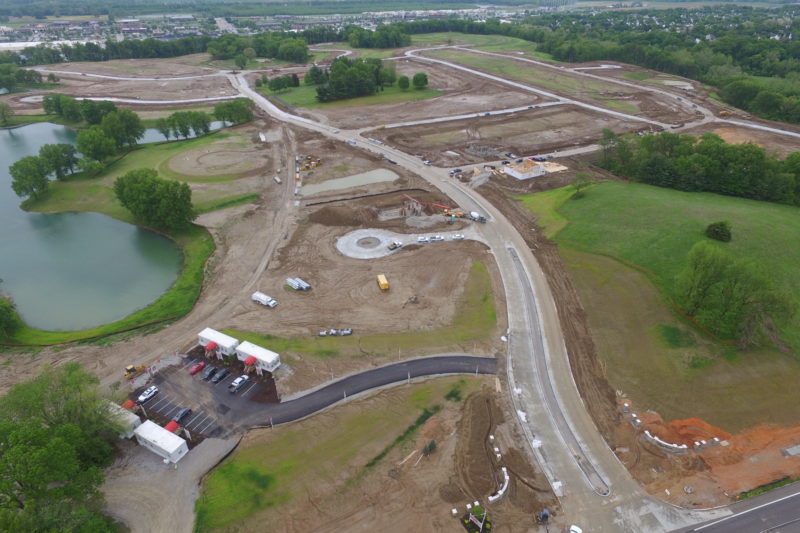 Since 1990, our Land Development Department has been an integral part of the J.H. Berra group and has demonstrated a strong, successful track record of achievement. The J.H. Berra team has developed upwards of 2,000 to 2,500 lots per year. Most recently, J.H. Berra partnered with Missouri's largest home builder, McBride & Son Homes, to form a land development company: Elite Development Services, LLC. Launched in 2018, this partnership develops homesites for McBride & Son Homes as well as offers construction management for other regional homebuilders.
We specialize in maximizing the use of land within the local municipal zoning guidelines and master plans. During this process, we perform in-depth cost feasibility studies to determine the profitability of the project. Once the tract is zoned, we oversee the day-to-day engineering of the site implementing cost-saving ideas, ensure timely approvals and start coordination with all agencies and utilities servicing the project. After construction approvals, the project manager obtains and awards contracts for all development improvements, including clearing, grading, sewers, water, pavement, utility conduit, retaining walls, irrigation, entrance monuments, seeding and sodding.
We provide field management to oversee and coordinate the installation of the aforementioned infrastructure, from the initial clearing and grading of the site to the final seeding of the site. During the development process, the project manager will work with the governing municipality to prepare the documents (escrow agreements, trust indentures, et al.) necessary to record a final plat for building permits. Subsequent to the final construction, we will also obtain the initial escrow releases from construction approvals. The "Total Package" comes with seasoned professionals handling every aspect of the development.
Development of projects by Elite Development Services, LLC are typically performed using three different scenarios:
We acquire the property and establish a guaranteed price of the lots to be sold to the builder.
We will secure a joint venture with individual or multiple builders on larger parcels of land, generally 50-200 acres, and become a partner in developing the lots. We have completed numerous joint ventures with many of the region's finest homebuilders on this basis.
We will manage your project and perform all of our management services on a lot fee basis.
The foregoing approaches to land development have allowed us to develop outstanding relationships with a multitude of homebuilders who look to Elite Development Services, LLC to complement their organization.