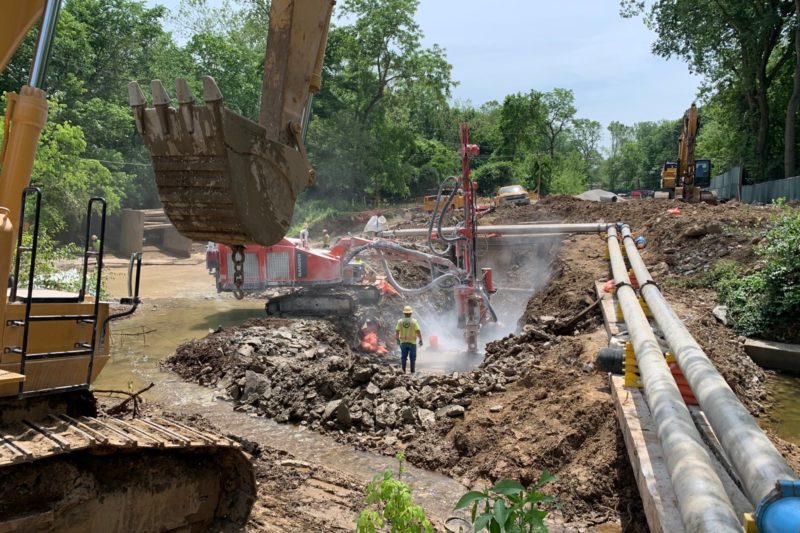 Utility Division
Sanitary/Storm Sewer/Water Main
The Utility Division is where the JHB family of companies began.
John H. Berra purchased a small rubber-tired backhoe in 1963 and began providing sanitary sewer lateral installations to existing homes in the growing suburbs. The company continued to reinvest in additional equipment and labor, expanding the operations to include the installation of sanitary sewers, storm sewers and water mains for new developments.
Currently, we install more than 125 miles of pipe per year ranging in size from four inches to ten feet in diameter.
We also install pre-cast box culverts, poly fusion pipe and ductile iron pipe. We employ more than 150 quality union workers forming multiple crews. Our structure crews are experienced in building manholes, inlets, wingwalls, junction chambers, and trench drains. We control all facets of our work, including site blasting, utilizing our own track drills. All this self-performed work ensures that your project will be completed efficiently and on time.
We are equipped and prepared for municipal, residential, and commercial work on sites large and small. We have experienced crews, supervision, support staff and management to provide a full range of construction services with efficiency. This focus has created a loyal customer base that consistently contracts with J. H. Berra Construction for all their utility projects.
Some of our projects include the 220 Lot Fienup Farms Subdivision in Chesterfield, Missouri, the 550 Lot Windswept Farms Subdivision in Eureka, Missouri, the Deer Creek Sanitary Relief Phase I project for MSD, which consisted of over 6,000 LF of 72″ FRP Pipe in Brentwood, Missouri, with a contractual value of $21,000,000., the Deer Creek Sanitary Relief Phase Ill & IV for MSD, which consisted of 18,000 LF of 54″ & 48″ FRP pipe in Ladue, Missouri, with a contractual value of $44,000,000. This project is currently the largest open cut sewer installation by dollar amount in our region's history. In addition, we have performed several Missouri American Water Company Obsolete Main Replacement Projects throughout the St. Louis Area.
J.H. Berra Construction Co. Inc.'s Utility Division is ready to meet your needs for sewer and water main installation. We are committed to providing quality service to ensure your project is completed professionally and in a timely and cost-efficient manner.