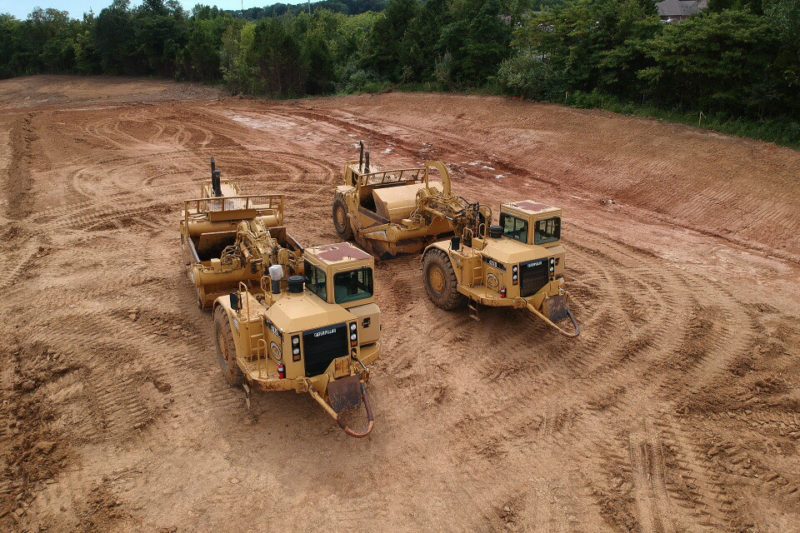 Grading Division
J. H. Berra Construction Co.'s Grading Division is dedicated to providing our customers with a finished site no matter the initial topography of the land. We are prepared to make your site plan a reality.
The Grading Division has crawler loaders, dozers, scrapers, trucks, and excavators, as well as GPS support equipment, that enable our team to tackle your excavation or grading project. With our fleet of equipment and foremen who bring knowledge and many years experience to the company, we are capable of working on multiple projects at any one time.
As with any type of equipment, there are breakdowns. To minimize this inconvenience, we have mechanics in field trucks and in our main repair facility. These employees keep the equipment running and moving dirt. This is in addition to the financial commitment we make in updating our equipment every year.
We tackle all projects in the same efficient and professional manner whether we are moving a few thousand or a hundred thousand cubic yards of scraper dirt, performing a deep structural excavation or finish grading a site. This work is performed on residential sites, commercial sites as well as industrial sites. We take pride in saying that no job is too large or too small.
Some notable projects that we have completed include
Fargo Water Treatment Plant -This 28-foot-deep structural excavation was set in the middle of a residential neighborhood next to the Red River in downtown Fargo N.D. It's net cut / export and stockpile were over 120,000 cy with a soldier pile shoring system.
Kirksville WWTP -This 20-foot-deep mass structural excavation / backfill had a net cut over 200,000 cy with multiple small structural excavations using slide rail shoring systems.
40,000 cubic yards for a 44-lot development called Arbors at Stonegate for a regional homebuilder.
With the equipment fleet and experience that comes from completing projects like those listed above, J. H. Berra Construction Co.'s' Grading Division can complete most earth moving projects.